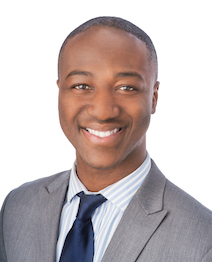 Kwame G. Gyimah
Email:
kgyimah@whittedtakifflaw.com
Kwame G. Gyimah is an attorney with the law firm of Whitted, Takiff LLC. Prior to joining the firm Mr. Gyimah worked as a litigator for Chicago-based firm, Korey Richardson LLC, representing clients in civil rights, employment and business tort matters. Before Korey Richardson LLC, Mr. Gyimah worked as an associate for the national law firm Baker & Hostetler LLP in its Florida office. Mr. Gyimah also previously worked as a student attorney in the University of Michigan Law School's Community and Economic Development Clinic, and served as a summer clerk for Judge Bernard Friedman of the U.S. District Court for the Eastern District of Michigan.
Mr. Gyimah also serves as a board of directors member for BenStel School Systems – a private school in Kumasi, Ghana, with nearly 1,000 elementary through junior-high level students. Mr. Gyimah's parents, Benjamin and Stella Gyimah, established the school shortly after emigrating from Ghana to the U.S., with the goal of bringing proven western education/teaching strategies to Ghanaian classrooms. In that effort, Mr. Gyimah has successfully overseen teams tasked with various development projects for BenStel. The project he is most proud of was the hiring of a Ghanaian Sign Language certified teacher and the development of a curriculum for hearing impaired students – the first mainstream curriculum of its kind in Ghana. In Chicago, Mr. Gyimah mentors at-risk students as a volunteer with the Chicago Bar Association's Lawyers Lend-a-Hand youth mentoring program.
Mr. Gyimah received his law degree from the University of Michigan Law School and earned a Bachelor of Arts in Political Science (Cum Laude) from the University of Florida, with a minor in Religious Studies.
His practice is concentrated in the areas of school law, special education law, child welfare, and mental health law.
Areas of Practice
School Law
Special Education
Mental Health
Child Welfare
Education
University of Michigan Law School, 2014  Juris Doctor
University of Florida, Gainesville, Florida, 2011 Bachelor of Arts Major: Political Science (concentrations in law, international relations and public policy)